On December 27, 2011, the Boao • China Enterprises International Cooperation Annual Conference and the 2011 Top 100 SME Growth Awards were held in Qionghai, Hainan. More than 500 people from the social, economic, and trade industries, media friends and representatives of national entrepreneurs, industry and community organizations attended the meeting. Among them, Jingke Electronics (Guangzhou) Co., Ltd. won the title of "China's Top 100 SME Growth Power in 2011" and became the only company in the LED lighting field to receive this honor.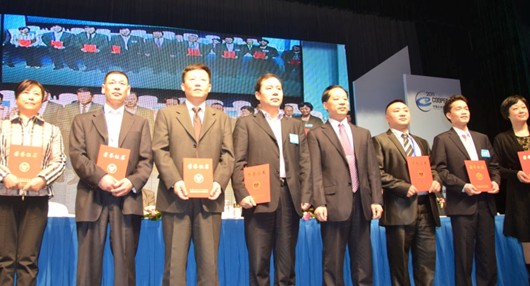 Hou Yu (third from left), deputy general manager of Jingke Electronics (Guangzhou) Co., Ltd. accepted the award
The person in charge of the award-winning Jingke Electronics (Guangzhou) Co., Ltd. said: "The acquisition of this title is an affirmation of the growth and innovation of Jingke Electronics. In the future, Jingke Electronics will grasp the development opportunities of the domestic LED industry. The company will hold high the banner of "high-brightness LED integrated chip leading brand", adhere to the road of technological leadership and professional development, develop the market with advanced technology, actively integrate talents, technology, market and industry with market development and innovation technology. Resources, develop core technologies with independent intellectual property rights, and make Jingke a high-tech national enterprise with the most core competitiveness in the global LED industry in the high-tech cooperation model of Guangdong, Hong Kong and Taiwan.
Jingke Electronics (Guangzhou) Co., Ltd. is a joint venture of Hong Kong Microcrystalline Advanced Optoelectronics Technology Co., Ltd. and mainland investment partners, focusing on investing in Nansha, Guangzhou. Jingke Electronics has a registered capital of US$27 million and a production plant and R&D base of 35,000 square meters with a total investment of RMB 1.5 billion. The goal is to build a production line with an annual output value of 2.5 billion high-power LED epitaxial, chip and module manufacturing, LED light source products in Guangzhou, and form a large-scale LED upstream and middle industrial chain. Jingke Electronics (Guangzhou) Co., Ltd. is a Guangdong Province Top 500 Modern Industry Project, a strategic emerging backbone enterprise in Guangdong Province, and the first batch of "100-person plan" innovative talent enterprises in Guangzhou, and is the core chip and light source product manufacturing upstream of the LED industry chain. Business, won the 2011 Hong Kong Awards for Industry and Commerce: Science and Technology Achievement Award, three types of LED chip products won the Guangdong Province high-tech independent innovation brand recognition. The development of Jingke was evaluated as a model of successful cooperation in emerging high-tech fields by enterprises, research institutes and universities in Guangdong, Hong Kong and Taiwan.
In 2011, the annual meeting of China Enterprises International Cooperation Center put forward the theme of "taking a new environment and seizing new opportunities". In the complex economic environment, we invited government leaders, industry leaders, economists and business representatives to discuss new opportunities in China. For the first time, for the SMEs, one-on-one "promoting the pulse", the practical solution to the dilemma of SMEs, bringing new ideas and development opportunities for the development of SMEs, as a share of 60% of Chinese companies has solved China 80% of SMEs in employment issues, the 2011 China Enterprises International Cooperation Annual Meeting, will once again lead SMEs to write brilliant.
The annual meeting of Chinese enterprises international cooperation has become one of the most attractive communication platforms for Chinese enterprises. Many enterprises have obtained financing and development through the annual meeting, and they have also gained new vitality and increased the network of participants. The holding of each annual meeting has been fully supported by the Ministry of Commerce, the National Development and Reform Commission, the Ministry of Agriculture and other ministries, and important leaders have participated in the field to provide policy support.

Our Led Wall Lights Indoor are great replacements for outdoor, forward throw Metal Halide or Sodium Potassium bulbs. Led Wall Pack Light will replace anywhere from 150W HPS/MH and provide sufficient lumens in majority of applications. Additionally, our Led Wallpacks are easy to install and provide convenient operating features such as our "Instant Start." Moreover, these Led Wall Pack 400W Equivalent provide superior lighting without Flickering or Humming.
Our Led Wall Lights Indoor is Eco-Friendly which means there is NO Mercury. With this improved lighting, there is no UV or IR in the beam. Furthermore, these Led Wall Pack Fixtures come with a 5 year warranty. Applications: Entrance Lighting, Courtyard Lighting, Industrial Lighting, Outdoor landscape Lighting, Building, hotels, wall lighting areas, etc.

Led Wall Lights Indoor
Led Wall Lights Indoor,Led Wallpacks,Led Wall Pack 400W Equivalent,Led Wall Pack Light
Shenzhen Bbier Lighting Co., Ltd , https://www.chinabbier.com