At present, countries are actively promoting LED lighting plans, LED bulbs will be listed as a priority to import lighting products; LED street light switching plan is in full swing, estimated 2013 global LED lighting output value penetration will further increase nearly 2%. Several countries in Asia have made strategic deployments such as LED industry development and product promotion as early as 3-4 years ago, such as the "21st Century Lighting" program in Japan, the "Solid State Lighting Program" in Korea, and the "New Century Lighting Development Plan in Taiwan". "China's "Semiconductor Lighting Products Application Demonstration Project" program, these national semiconductor lighting planning reflects the importance of countries in the development of LED lighting industry, industrial economy and environmental energy efficiency.

In 2010, the total output value of China's LED industry reached 120 billion yuan, and the number of enterprises was close to 4,000. The average growth rate in the past five years was 35%, and in 2010 it exceeded 40%. In the next five years, the market size will reach 500 billion yuan. LED products have a wide range of applications, from automotive lighting to ordinary furniture lighting, to urban landscape lighting projects, street lighting, decorative lighting and many other areas, the market has great potential.

In the past 10 years, the cost of LED has been declining every year. In 2015, the price of LED products may be reduced to 1/5 in 2010. By then, the general lighting market penetration will increase to 50%. In 2020, LED lighting will have over 75% of the lighting market. The market share.

Asia's LED lighting industry has entered a period of golden development. Each company's positive and aggressive attitude has continuously injected new elements into the LED lighting industry and brought more intense competition. Traditional lighting companies are actively exploring LED lighting product lines. Semiconductor-based manufacturing companies are also focusing on the improvement of LED light quality. The huge potential of emerging industries has stimulated a large number of rising stars, and its rapid catch-up pace has caused pioneer companies to dare not. Lax. Under the constraints of various factors, Asian LED industry will inevitably experience a period of chaotic competition.

China: The huge market potential and low production costs attract LED investment fever, and the trial penetration of LED lighting has rapidly increased;

Taiwan: Use of resource integration and close cooperation between the two sides of the Taiwan Strait to create a unique competitive advantage;

South Korea: The large group continuously cuts in, invests in LED lighting industry production and R&D, and actively attacks the LED lighting market.

Japan: Mastering various patents for active R&D and establishing the market's top technology positioning.


What can Power Balance Bracelet do?
Every biochemical reaction in the human body is produced after a series of electron exchanges occur at the microscopic level. When these tiny electrons coordinate and orderly interact, the human body is in an optimal state. The energy bracelet relies on bio-sensing. It can receive a frequency of 7.8 Hz in a moment, and instantly change the way the human body interacts with the electromagnetic field environment, helping the human body to receive the natural frequency signal instantaneously, so that the body can effectively adjust to the best balanced condition.
Power Balance Bracelet description:
1.Product name:Silicone Energy Bracelet,power balance bracelet, Power Bracelet Energy ,X Power Energy Bracelet, Wristband Power Bank ,Quantum Energy Bracelet
2.Place of origin:Guangdong China
3.Color:any pantone color is available
4.Logo:printed,debossed,embossed
5.MOQ:500pcs.
6.Package:opp bag,customized design is available.
7.Design:Customized
8.Certification:FDA,LFGB,SGS,ROHS,etc.
9.Usage:Gifts/Sports
10.Power Balance Bracelet photos for reference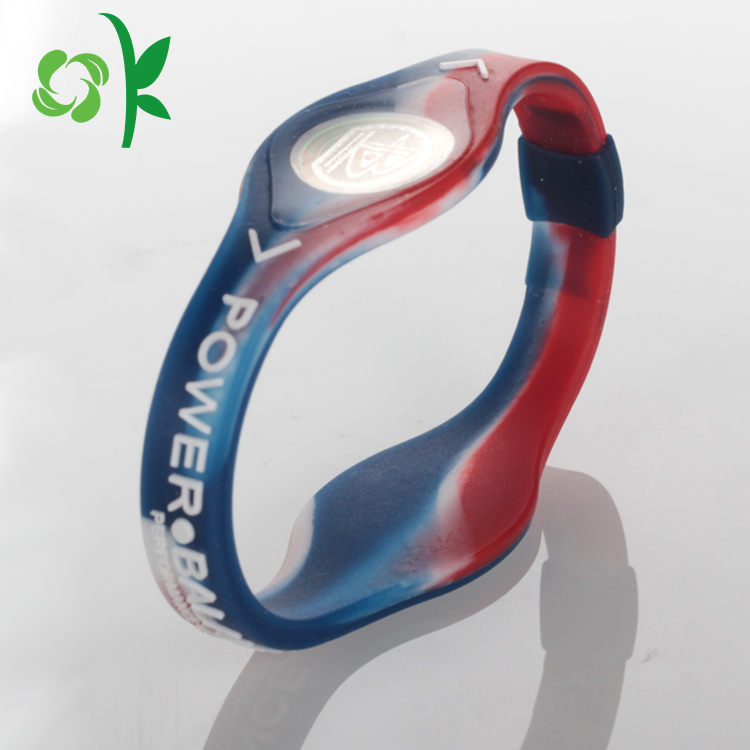 Power Balance Bracelet
Silicone Energy Bracelet,Power Balance Bracelet,Power Bracelet Energy,X Power Energy Bracelet,Wristband Power Bank,Quantum Energy Bracelet
OK Silicone Gift Co., Ltd. , https://www.oemsiliconegift.com