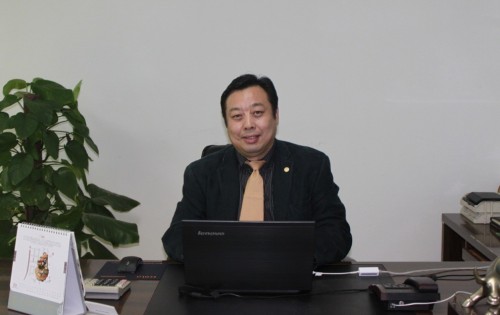 The four-day 14th Hong Kong International Autumn Lighting Fair is nearing the sunset. Nearly 2,300 exhibitors from 37 countries and regions exhibited all kinds of lighting products and lighting technology. More than 3,700 companies visited more than 5,600 buyers. Purchases, the number of exhibitors broke the historical record, the scale of the top Asian. As the leading LED lighting professional media in China, OFweek Semiconductor Lighting Network tracked the entire exhibition. At the Zhongming Semiconductor booth, we were fortunate to once again interview with Pan Mingrong, the planning director of Zhongming Semiconductor Lighting Co., Ltd.
Ofweek semiconductor lighting network: Zhongming is committed to forward-looking LED lighting solutions and products, has been in a leading position in the field of LED lighting. What new products and technologies will your company bring us for this Hong Kong International Autumn Lighting Fair?
Pan Yirong: Every year, Hong Kong International Lighting Fair Zhongming pays great attention to it. We will develop new products for large and new customers and customers. This year is mainly reflected in two areas. One is the field of spotlights. We have developed a replacement product that is closer to halogen than the existing spotlights. From our showroom you can also see that walking under the lights does not feel This is an LED lamp. His effect is almost indistinguishable from traditional halogen lamps. This 7W spotlight can replace the traditional 35 to 50 watt halogen lamps. Compared to halogen lamps, this lamp's energy-saving effect is very obvious. The other one is our large-angle light bulb, which can reach 310 degrees of light, and its brightness exceeds 810lm, and can replace 60w traditional lamps. Of course we have more new products, such as the G4 for crystal lamps and the G37 candle light with a brightness of 300lm compatible dimmer G37. Not only did our brightness improve, but our dimming performance also improved significantly.
Ofweek semiconductor lighting network: A major hot spot in the recent lighting market is that since October 1st mainland China banned the import and sale of incandescent lamps of 100 watts or more. What do you think of the implementation of this policy for the LED lighting industry? ? What is the impact on Zhongming?
Pan Yirong: The prohibition on the sale of incandescent lamps has greatly contributed to the LED industry. Since the government launched the plan for the delisting of incandescent lamps, we have obviously felt that LEDs have been increasingly used in many occasions, such as commercial fields, hotels, and large supermarkets. Home lighting is also being promoted by the government. I think there will be a substantial increase in LED lighting in the past two years. This is thanks to government policies.
For us, this policy will definitely give us a good boost to the Chinese sales team and it will certainly promote it. This is also a very good opportunity for the growth of our performance.
Ofweek Semiconductor Lighting Network: For this opportunity, Zhongming has related plans?
Pan Yirong: The most important thing is to do a good job in the product, in the LED lighting, Zhong Ming has always been in the industry leading position, and now with this policy to cooperate with us to do, LED lighting this industry we will certainly go the way Smooth.
Ofweek Semiconductor Lighting Network: Although the government has explicitly banned the import and sale of incandescent lamps above 100w, we can still see in the market. What causes this?
Pan Yirong: In fact, this issue is easy to explain. Incandescent lamps have existed since light bulbs. Energy-saving lamps have been available before the LED, but energy-saving lamps cannot completely replace incandescent lamps. So there is a market for incandescent bulbs that will exist for at least a while. Just to say that his share is not as big as before, we can only say that the new light source accounted for a growing market share, but can not represent 100% replacement. Anything has its own characteristics, so there is also room for incandescent light. We have forbidden him to use it on a large scale because of the concept of energy saving and environmental protection. However, because environmental protection has to be completely banned, it is still difficult to do. From the invention of incandescent lamps to the present, we can also see that no one product can replace incandescent lamps by 100%.
Ofweek semiconductor lighting network: incandescent delisting, in the face of such opportunities, LED lighting companies also need to do what preparations?
Pan Yurong: The LED market does not have a unified norm. Many companies want to have their own characteristics of LED production, and then produce high-quality products on this basis. However, there are also some companies that produce relatively poor product quality. If a company wants to survive in the LED industry and achieve lasting development, it must first start with quality and truly make it suitable for the market, which is in line with the concept of energy conservation and environmental protection, and also meets the cost-effective products, so that it can develop in the long term.
Ofweek semiconductor lighting network: Although the ban on incandescent lamps in mainland China has been promulgated, but in fact the market share of LED lighting is still relatively small, LED lighting to replace incandescent lamps there is still a long way, how do you think about this?
Pan Yurong: Everyone can see that the development of LED itself is very fast, and it is constantly updating every year. It is also this fast leading up to now there is no one industry norm, so that there are many kinds of LED products on the market. In this way, consumers are difficult to understand all at once and they face too many choices in the market. If they choose too much, they will not know how to choose. If there is a market specification, it can tell consumers exactly what kind of product is a good product. In this way, consumers know how to choose, and production companies can also produce cost-effective LED products in line with this standard.
Although each year we LED has a decline of about 20%, but the current high price is still difficult to do. This also requires a process. Comparing traditional energy-saving lamps, he has been on the market for more than 30 years. Now the price of better energy-saving lamps is more than 10 yuan. Since the development of LED has been less than eight years, I think that in the next three years, the market price of LED lamps will definitely reach a price that consumers can accept. By 2020, LED will surely get a good popularity.
PB Series smart LED Display is the first generation smart products. It is based on led display but improved led display technology from appearance, structure, functions and using range. All are integrated high density, high brightness, waterproof products. Easy to be installed anywhere on pole, wall, roof.All of them are based on Tecnon smart display server system. It is online remote control system. Each client has unique account and password to control the panels he wants. Even 1000pcs panel ,all panels program could be updated within 1 minutes. Save time and cost. So now very popular in Malaysia, Indonesia, Pakistan and Dubai.
Optional shape: Square/Curve
Optional display:It is optional for single side , double sides or display with lightbox.
Terminal optional for side hanging, middle hanging, roof hanging , mouting etc.
It could combine with different functions like wifi sharing, security monitor, GPS, power Charging etc .
Smart Pole Billboard LED Display
Smart Pole Billboard Led Display,Led Billboard,Street Light Pole Led Display,Smart Pole Led Billboard
Shenzhen Bako Vision Technology Co., Ltd. , http://www.rentalleddisplays.com