In the past quarter of 2016, the OLED development trend in the TV industry has gradually become clear. The cutting yield rate that has constrained the development of OLEDs has now reached more than 80%. It took 10 years to achieve this yield LCD, and OLEDs only used 1.6 years. In 2015, OLED panel shipments were close to one million, and shipments in 2016 are expected to grow by more than five times. In the upstream channel, LG Display Panel has invested two production lines dedicated to producing large-size OLED panels. Samsung announced the restart of the OLED strategy. Hon Hai also proposed to produce OLED panels after it acquired Sharp. Among downstream TV manufacturers, TV manufacturers who once vowed not to do OLED have quietly changed their attitude. It can be seen that for the future, the entire industry has gradually come to understand from top to bottom. OLED TV is the terminator of LCD TVs, and OLED is the future. No, not only the future, OLED is now.
On April 14, 2016, Skyworth and Warner and Tencent Penguin TV held a product launch conference in Beijing with the theme of "Conquer and Color Industry" and released the new S9-I OLED TV. The new products released this time not only adopt OLED screens, but also add 4-color HDR technology, and made another breakthrough in picture quality.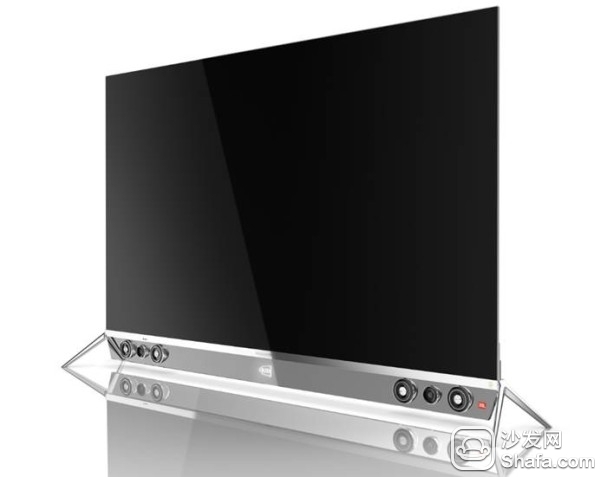 OLED + 4 color HDR conquer color
HDR (High Dynamic Range high dynamic range image) is the most popular display technology in the global display, television, and movie content industries. It can provide more dynamic range and image details. However, HDR technology requires television screens with high partition, high brightness range, high contrast and other requirements. This is difficult for ordinary LCD screens, but it is a perfect fit for OLEDs. Therefore, OLED is the best carrier for HDR display.
In addition to the perfect display carrier OLED, the Skyworth S9-I released this time also provides a higher-end "4-color HDR" technology. 4-color HDR is the high-end HDR technology developed by Skyworth and LG Display. It adds HDR algorithm for 4-color 4K screens on the basis of ordinary HDR, which surpasses ordinary HDR. Realtek's HDR chip can losslessly decode HDR signals, and with the unique 4-color screen control chip and 4-color display to achieve intelligent brightening screen effect, which greatly enhance the dynamic range of the picture, and finally display HDR losslessly. content. Moreover, even when non-HDR signals are input, Skyworth S9-I can use the four-color screen-control chip's 4-color HDR algorithm to intelligently convert ordinary SDR signals to achieve HDR effects, so that OLED and HDR technologies can be perfectly integrated. .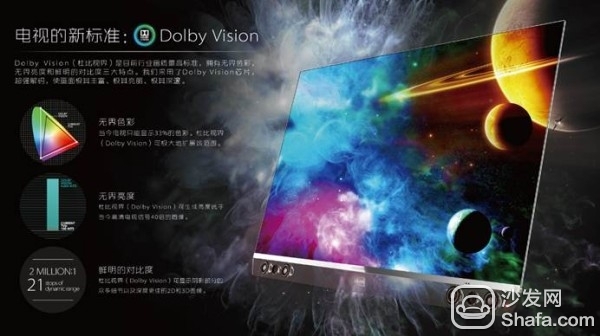 Skyworth's S9-I chip uses Realtek's RTD2999. The chip uses Dolby Vision VS10 (Dolby Vision VS10), which not only decodes normal "HDR 10" chip sources, but also decodes higher-level Dolby Vision products. The HDR film source greatly expands the space for content acquisition. Dolby Vision is currently the most advanced HDR solution. It combines the two functions of high dynamic range and wide color gamut to produce brighter highlights and greater contrast between brightness and darkness compared to ordinary images. Colors that have never been seen on television.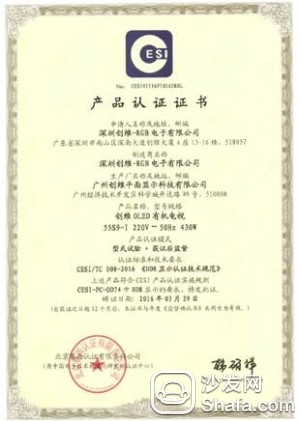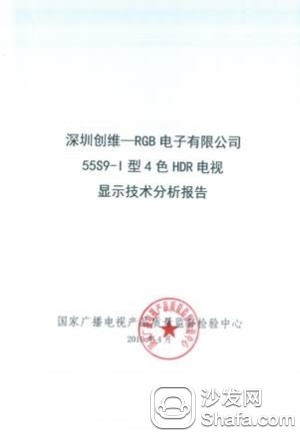 Skyworth S9-I has now obtained HDR certification from an authoritative organization and complies with the HDR display certification specification. In the test of the National Radio and TV Product Quality Supervision and Inspection Center, Skyworth S9-I was confirmed as a 4-color HDR TV with 4-color pixel display and HDR function.
Rich HDR Content: From Movies to Games
Currently, the HDR technologies promoted by major TV manufacturers almost all only stay on the improvement of display technology. However, the display requirements of HDR hardware are achieved by increasing the brightness of the backlight, increasing the color gamut, etc., and there is no content support, and it is difficult for consumers to experience The visual impact of true HDR technology. To create a complete HDR ecology, content is also essential in addition to screens and chips.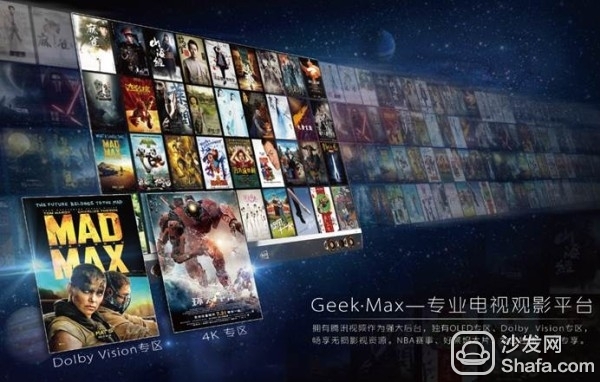 Skyworth S9-I uses iCNTV broadcast control platform to provide Tencent video resources. Tencent Video will enjoy the exclusive rights to enjoy Warner HDR's domestic broadcast rights in 2016 and share rights to broadcast in 2015. As one of the world's largest film and television entertainment production companies, Warner Bros. has launched several movies using HDR technology and has been shooting and planning more HDR content. With the HDR source provided by Warner, Skyworth will make further breakthroughs in the promotion of HDR and create a complete HDR ecosystem.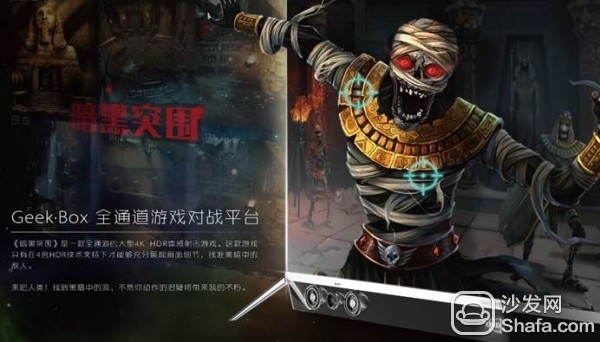 Skyworth S9-I has added HDR zone to the system, has several HDR videos with Warner, and more than a dozen movies with exclusive copyrights, such as Return of Batman Superman Tarzan. There is also an OLED area where the content will perfectly represent the perfect black of the OLED. In terms of game entertainment, Skyworth S9-I provides a large-scale HDR somatosensory game with dark breakouts, stunning screens, and fun games that perfectly display the dazzling picture quality that 4-color HDR brings.
JBL original audio to create perfect audio and visual enjoyment
Skyworth S9-I has OLED display, 4-color HDR, but also equipped with JBL original audio (2 pairs of full-range speakers + 2 high-frequency speakers + JBL Gold Eyes bass), to achieve 5.1-channel decoding, thus providing high-quality sound , with 4 color HDR and OLED perfect picture quality, HDR video and games, to create the perfect audio-visual entertainment.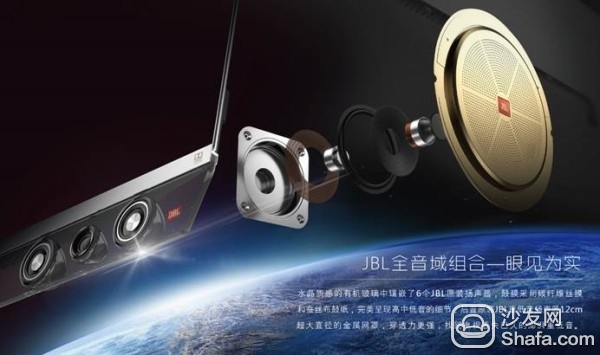 Classic industrial design
Skyworth's S9-I TV has two mainstream sizes, 55" and 65". The design of the S9-I TV follows the classic design of the previous generation S9300. The design has won the same award as the C919 aircraft – 2015 China Industrial Fair Industrial Design Gold Award. Skyworth S9-I is a home craft product. The ultra-thin body of 5.27mm, at the same time with the decorative strip of crystal acrylic, so that the whole body is more light and smart, become the real choice for wall hanging. This product is particularly in the details of the top reaches the workmanship, electroplating highlights the metal trim with a smooth metal frame, even if the back can not see the use of a metal back drawing process, texture can be described as full.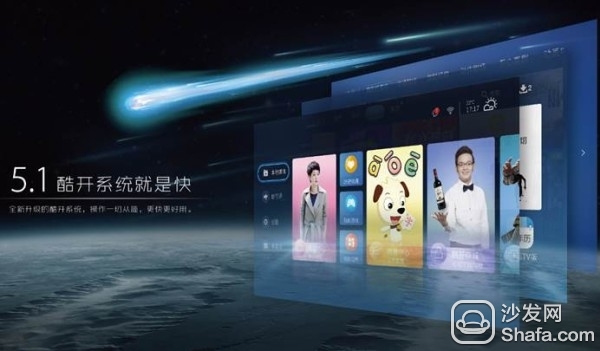 Cool open system 5.1
Skyworth S9-I TV also fully demonstrates the profound skills of software development in the system. Equipped with the latest CoolOpen System 5.1, TV control is as easy as using the iPhone/iPad. No matter you are an elderly person or a childish young child, you can feel the wonderful and convenient life of technology. . Skyworth's unique content platform, Geek Life, includes modules such as Geek Box (game center), Geek Max (television center), and Geek Pod (music center), providing users with the ultimate home Internet experience. Whether it is a film and television talent who loves to pursue drama, or a geek who is immersed in the game world, or a city beauty who likes shopping, she can find a joyous world that belongs to herself and her family.
As a truly ecological HDR TV, Skyworth S9-I not only provides an HDR display screen, but also satisfies the user's comprehensive requirements from the quality to the content, and provides a full range of entertainment experiences that will surely attract The real concern of the user.
This battery is for replacing Lead-Acid Battery, it has the standard appearance and size as well as capacity, but longer cycle life and high energy and good charge and discharge performance.
Capacity:100AH/150AH/180AH/200AH/250AH.
Voltage:12.8V, cycle life is more than 2000 times, also can customize the capacity.
Lead-Acid Battery,Lead-Acid Replacement Battery,Lifepo4 Lead Acid Replacement,Lead-Acid Replacement Battery(Lifepo4),12 Volt Battery Backup,Renewable Energy Bank
Shenzhen Enershare Technology Co.,Ltd , https://www.enersharepower.com